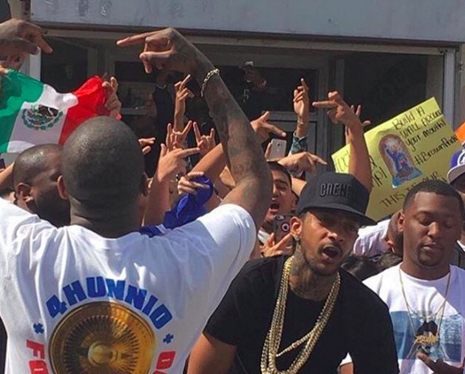 Media are hailing a viral video of an anti-Donald Trump anthem filled with warnings of riots and assassination threats if the White House hopeful is elected.
After its release, the "F–ck Donald Trump" music video was hailed by spin.com's Brennan Carley as "a masterful piece of rap as influential weapon, a takedown of the Republican frontrunner as well as a comprehensively cutting indictment of our political system at large."
The staff of Billboard.com praised the song as a powerful "viral protest song."
Rapper YG warns the Republican presidential frontrunner to stay out of California, saying:
I like white folks, but I don't like you
All the niggas in the hood wanna fight you
Surprised El Chapo ain't tried to snipe you
Surprised the Nation of Islam ain't tried to find you
Have a rally out in L.A., we gon' fuck it up
It was unclear if the rapper would ever release the video for his anti-Trump song. Earlier this month, the 26-year-old rapper's video shoot for the music video was shut down by LAPD officers.
To date, the Secret Service, Donald Trump, and his presidential campaign have not responded to the threats in the "F–k Donald Trump" song and music video.
Donald Trump has not posted any planned rallies in the state ahead of the June 7 California primary.
Admin




Posts

: 5


Join date

: 2016-04-09


Location

: Aastera



So, the baltimore anti trump music video is uploaded by WorldStar and now the adult video is uploaded by WorldStar, it's true fighting isn't also for rightwingers.



Posts

: 4


Join date

: 2016-04-11


Location

: Japan



Okay, racism is getting out of hand.



Posts

: 1


Join date

: 2016-04-24



Rap is becoming a race issue.



Posts

: 4


Join date

: 2016-04-13



It's official. American Rap breeds a lower IQ.



Posts

: 2


Join date

: 2016-04-14





Similar topics
---
Permissions in this forum:
You
cannot
reply to topics in this forum